By Andrew McKaysmith
Voice of Braceprot is a hijab-wearing all-female funkified rock/ metal trio from Indonesia, and they're capturing the attention of music fans, global media outlets, and royalty. 
The Guardian and The New York Times have printed articles praising the group, and British publication Metal Hammer described them as the "Metal Band the World Needs Right Now". 
The ladies were further honoured during International Women's Day celebrations in the United Kingdom this year when they met the Duchess of Cornwall, HRH Camilla Parker-Bowles, and guitar iconoclast Slash was so impressed with what he heard that he invited the trio to meet him after a Guns N' Roses performance in Jakarta in 2018.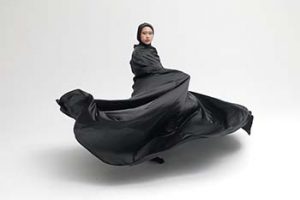 A recent press conference with band members Firdda Marsya Kurnia (vocals and guitar), Widi Rahmawati (bass), and Euis Siti Aisyah (drums) was an excellent opportunity to discover how the ladies view playing rock and metal music through the lens of their Islamic faith. 
I couldn't attend the Zoom presser in person, so I submitted two questions in advance, which the conference moderator introduced. 
The presser was facilitated through an interpreter, so the literal translation for the ladies' answers to my questions is not available.
The first question focused on understanding how Islam fostered Voice of Braceprot's chops as world-class musicians and songwriters on their recent release. 
I submitted: How has your Islamic faith helped you become the incredible collective evident in your new release? (which was read out to the ladies as "How has your faith informed how you communicate and how you make music")
Through the interpreter, the ladies' response was: 
"From the very beginning, (we) were taught that in its essence, any religion should bring good, and to protect and guarantee the rights to freedom for a human being while also becoming grace for the universe," they said. 
"Because of that belief, (our) will and determination are strengthened in terms of keeping on playing music and delivering more good upon others. One example of this is the latest single: "God, Allow me (Please) To Play Music"."  
Many years ago, Dead Kennedys frontman and Alternative Tentacles label founder, Jello Biafra, said something along the lines of 'death metal is a style of music which crosses all cultural and social boundaries'. 
Expanding Jello's observations, is it possible that rock, heavy metal and extreme metal are the genres of music that cross cultural and social boundaries, as well as religious and social thresholds? 
With Jello's words in mind, I submitted the following question: In your opinion, is heavy metal and rock a music genre that crosses all cultural, religious, social and class boundaries?  
Through the interpreter, the ladies' response was: 
"Of Course."
"For (us) any kind of genre of music has its own language that (we) believe could cross any boundaries. So not only religion but also cultural social class and so on." 
Voice of Braceprot is breaking down barriers. 
You can support the group by visiting their website ( https://www.voiceofbaceprot.com/ ), tuning in on Spotify and checking out the latest videos on YouTube.
---
Recently added ...