You may have heard the podcast edition of the Year in Review, so here it is for perpetuity on the website.
First up, let's take a look back at the year from the podcast's perspective.
As usual, I was lucky enough to obtain opportunities to talk with so many of the leading lights and influences on rock and metal. Erik Rutan from Morbid Angel and Cannibal Corpse must be the highlight, as was Terrence Hobbs from Suffocation, Kai Hansen from Helloween and Gamma Ray, Bill Steer from, Carcass, Gary Holt and Zetro Souza from Exodus and many more. There were 92 podcast episodes released this year, many of them featured on my new YouTube channel. The Cradle of Filth episodes, which a YouTube user christened the Chronicles of Filth, continue to amass a vast following. I get more correspondence about my chats with ex-CoF members than almost everything else combined. I have around a dozen more members to talk to if only I can find them and then get them to commit to a chat.
Many conversations made Blabbermouth, Ultimate Guitar and many other clickbait sites. It's all publicity, although I can tell you it hardly translates into subscribers to the show or new listeners to a band's music.
My book about the conversations shared on the podcast will be out soon. It's written; I just need to go through the motions with a publisher and print them locally, they will be available for sale in the new year, and yes, you heard that right, I know many of you prefer a physical copy to that of digital, so I will ensure it's available.
Something else happened this year. I was asked to participate in a new YouTube chatfest by Josef from Baldheaded metal. He hosts a reaction and review themed show, so it's a bit different to mine; he's based in New York, so I'm up before 5 am Brisbane time so we can talk shop about many worthy metal related topics. We chat once a week so tune in if you want to hear us wax lyrical.
Onto the music released this year. I do have a top 10, but before we get to it, I want to highlight the many other worthy releases that I highly recommend:
Suffocation– Live In North America: An essential live recording from one of the greatest death metal bands.
Beast In Black– A Dark Connection: The sound of the future? FM pop sensibility and stylings meet extreme metal. Includes a choice cover of Michael Jackson's "They Don't Care About Us".
Ministry– Moral Hygiene: Uncle Al is back. This album splices shouted protest themes of 2020/21 United States over the outfit's signature thrash inspired industrial metal.
The Night Flight Orchestra– Aeromantic 2: Europe (the band) meets Journey (also the band) at a Rod Stewart album launch.
Carnifex– Graveside Confessions: A slicing deathcore extravaganza by a band at the peak of their considerable powers.
Khemmis– Deceiver: Grinding doom metal. The highs reach Everest and lows plummet to Mariana Trench depths.
Fear Factory– Aggression Continuum: Never count Dino out of the game. As the last man standing, the album sets him up nicely for the future, not a bad riff in sight.
Vader– De Profundis (Remastered): If you even vaguely consider yourself a fan of death metal, you should own this. A masterpiece.
MSG (MICHAEL SCHENKER GROUP)– Immortal: The overlooked master of heavy metal guitar performance offers yet another example of his evergreen relevance to the genre.
RICKY WARWICK– When Life Was hard and Fast: All class. Ricky is easily one of rock music's premier frontmen, and this solo album needs to be played loud. Very loud.
Epica- Omega: Mark Jansen can't write a lousy riff, and Simone Simons wouldn't know how to sing a bad tune; all the evidence you need to support these claims can be heard across Omega.
Ghost Bath– Self Loather: Dennis Mikula has come of age on this album. It surpasses anything he's done under the Ghost Bath moniker to date by many measures.
BURNING WITCHES– The Witch of the North: The trans-European/ Filipino all-female outfit knows a thing or two about writing epic thrashed-up trad metal.
Pathology– The Everlasting Plague: Very heavy and vicious death grind from Southern California.
Therion– Leviathan: Cristofer Johnsson is the Keith Richards of symphonic metal. Long may he reign supreme.
White Void– Anti: Another shining example of the boundless creativity of Borknagar's Lars Nedland
Cannibal Corpse– Violence Unimagined: The death metal masters finally have the death metal master blaster in the band; guitar player and producer supreme, Erik Rutan. Only father time can stop them now.
Alien Weaponry– Tangaroa: The Kiwi's are delivering on the promise of the debut Tū, except Tangaroa is more dynamic, groovier, and heavier.
Armored Saint– Symbol of Salvation Live: John Bush and Joey Vera are at their best. Stunning.
Aeon– God Ends Here: Heavy, heavy stuff. Did I mention heavy?
Cirith Ungol– Half Past Human: For the metal fan who prefers to swig from a goblet and gnaw their meat from a bone.
Artillery– X: The Danes get it; thrash metal and rock music, ala AC/DC were made for each other.
KIMURA– Circle The Prey: Pantera's groove with plenty of Carcass/ At The Gates references. One of the premier bands to emerge from Western Australiarecently.
Desecrator– Summoning: It's hardly great news that the titans of Victorian metal are calling it a day, but at least their legacy will be intact as they leave us with two quality albums, with Summoning the pick of the two.
The Ascended– The Dark: If you were a fan of Trivium when Matt Heafy wasn't checking his flex in a gym mirror (pre- 2009), this album is for you.
Beleth- Silent Genesis: The duo that comprises this outfit live thousands of kilometre's apart, and they've never met. World-class blackened death. The surprise package of the year
Hidden Intent– Dead End Destiny: Oz metal done right. You can almost smell the VB stained carpet, sweat and stale cigarette smoke heaving from these riffs.
The Amenta– Revelator: The aural equivalent of a nightmare that goes on for far too long. A listenable version of Portal. One of the most significant Australian extreme metal outfits ever.
Vansind- MXIII (EP): Danish Viking themed metal as written and performed by a willing band who know how to write a decent tune.
The Ugly Kings– Strange Strange Times: Excellent guitar playing and a choice guitar tone. For fans of rock music who like it a little rough.
Burial Pit– Subhuman Scum: Gargantuan riffs will roll you over and over until you don't know what day it is. I would have loved to have seen these guys live at The Zoo (Brisbane venue)
Stonetrip– S/T EP: Rock music with a metal heart.
VHF (VINCIGUERRA HOEKSTRA FRANKLIN)– Very High Frequency (ReRelease): The very definition of a power trio. Vocals would have ruined the experience, and they're saying plenty enough with a guitar, bass and drums.
BLACK LABEL SOCIETY– Doom Crew Inc.: Zakk Wylde, as you've heard him many times before, so that can only be a great thing. Ozzy meets Sabbath meets Pride and Glory
Warrior Within– Stronger than Death/ Opus/ Last Blaze of the Phoenix (Singles): The Sunshine Coast's premier metal band. Teutonic thrash meets the best of the Bay Area combined with Sydney's 80s underground heroes Mortal Sin and Slaughter Lord.
Obscura– A Valediction: Riffs abound a mile a moment on this furious extravaganza from the German maestros.
Alluvial– Sarcoma. This album proves that Wes Hauch is one of the most crucial contemporary metal guitarists.
Best releases of 2021
On Sound Of Galaxies, Leviathan Project combines the aesthetic of old school speed and thrash metal, traditional heavy metal, FM radio rock sensibility and an ethereal cosmic quality that many bands embrace, yet few execute with the same prowess.
The group is the brainchild of Tommy Krash, who was in a blink, and you missed it version of Britny Fox, and the relatively unknown Matt Nardo, who is a seasoned studio pro who can capably perform the guitar, bass and vocal duties. The quality of their tunes meant they could wrangle ex-Judas Priest frontman Tim 'Ripper' Owens to sing and the all but forgotten Bobby Koeble to handle lead guitar duties. Koeble, if you aren't aware, performed in Death and was in the lineup which recorded the group's 1995 magnum opus, Symbolic.
If the lineup on Sound Of Galaxies sounds like it's something close to an all-star gathering, which, to be perfectly frank, could have meant that it would be a case of too many cooks in the kitchen, then it's remarkable that it's an album that's greater than the sum of its impressive parts. Ripper is in career-best form across cuts such as "Solar Storm", "Leviathan", and the Maiden beating "Edge of Time". Koeble unlocks the mystery that many old school death metal enthusiasts may have been quietly asking, which is, was his contribution to Death essential or even relevant? He's been out of the spotlight for decades. Yet, his lead breaks and solos answer the question by revealing a brilliant soloist with equal parts gnarly shredder and a breezy note bender who can squeeze every drop of power from deceptively simple arcs and fans of the fretboard.
I've had two conversations with Tommy Krash. We've covered all manner of musical terrain as I sought to understand how an unassuming bloke from Florida managed to create one of the more essential heavy metal releases of the past decade. I came away from both conversations thinking Van Halen, the most critically important and innovative guitarist of our lifetime got it right. Van Halen said something along the lines of music acting as a powerful summoning; that creation lies somewhere beyond consciousness and out of reach to most, yet for a precious few, it's within their grasp. Krash is one of those fellas who can tap into that mystical cosmos of sounds. Thank the Gods, then, that divinity saw him worthy of partnering with Nardo, then attracting Ripper and Koeble within his musical orbit; Sound Of Galaxies is easily my pick for the number one album of 2021.
2. Møl– Diorama
If Diorama is the meeting point between Norwegian black metal, British shoegaze and more complicated indie stuff like Gang of Four, then Denmark's Møl has a bright future ahead. I say 'if' because for many non-observant listeners, it's an overly simplistic criticism to tell the group they are mining the rich vein of sound popularised by Deafheaven in their 2013 masterpiece, Sunbather.
Yes, it's easy for some to say the group is derivative of the more famous San Franciscans. Still, anyone who buys into such tripe will miss out on hearing the dynamic duo of Kim Song Sternkopf and guitar ingenue Nicolai Hansen. Hansen has managed to capture a guitar tone reminiscent of Johnny Marr (The Smiths) at his most ethereal and then blend it with some seriously warped, down and dirty blackened thrash that'll have the naysayers ducking for cover. Sternkopf, too, contributes a lung-busting performance that must be equal parts technique and physical agony to recreate, which means that a live performance from the Danes will be worth savouring.
I dare say you won't appreciate Diorama as quickly as other albums on this list. That's because it's a good old fashioned grower, which also means you will be listening to it for many years to come, not just until the end of next Wednesday.
3. Exodus– Persona Non Grata
Yes, sorry about that, Zetro. We did have that chat that made Blabbermouth and, God knows how many other bait and click sites. But wasn't it worth it? Expanding on your political beliefs during an unguarded moment at the end of weeks of press commitments happened to pave the way for many people to now be aware that Exodus is more than just alive and kicking. The band is armed and dangerous and just delivered one of their best albums in a storied career.
Persona Non Grata is vicious; it's an old fashioned kill'em all, take no prisoners thrash metal extravaganza that only musicians who were there to play a role in the emergence of world domineering Bay-Area thrash could conjure. This far into the group's career (over 35 years), there's no way anyone could have predicted their music would be heavier and faster than not only the albums within their catalogue but almost all other bands who sit adjacent in the pantheon of all-time heavy metal greats.
Go well, Zetro, Gary and the rest of the band. In these dire times, with a demented old man running the globe's most influential and vital economy alongside a crackling identity obsessed narcissist, your voice has never been more relevant, musically and figuratively speaking.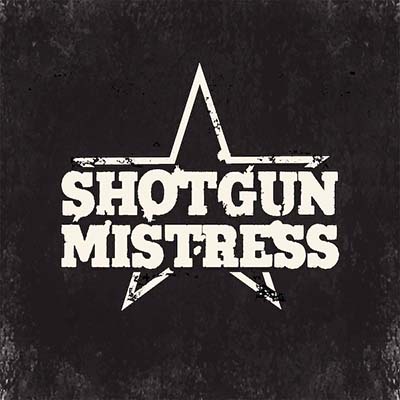 Shotgun Mistress is what you get when an incredibly adept extreme metal guitarist turns their hand to riff rock. Victorian Matt Wilcock is an unsung hero of powerful metal guitar performance. With a career that reads like a Spotify playlist of your favourite late-night beer and God knows what other substance imbibing relaxation accompaniments, Wilcock's guitar playing can be heard on recordings from internationally acclaimed groups Akercocke, The Berzerker, Werewolves, Abramelin and Antichrist Imperium.
The group is more than just a Wilcock effort, to be sure. Still, his performance across Shotgun Mistress is so complete, so masterful, it could justify turning the 'Mistress into an excuse to gush about his talents alone, which would paint most of the picture, but not all of it. Anyone who has spent time grafting a tune with a few mates in a rehearsal room can tell you; a great guitarist will not make an average band great. Fortunately, then, the 'Mistress can write a tune and deliver it with a gripping intensity. You can't fake that; the band either have chops, or they've left them in a dank studio car park under crushed tins of beer cans and McDonald's wrappers.
So Wilcock brings the same white knuckle intensity to rock music as he does to extreme metal, and on Shotgun Mistress, he is surrounded by a killer band. 13 is an unlucky number for most, yet the group have conjured as many tracks on this, their debut LP, and left plenty of room for fans of no bullshit, four to floor rock n metal to clamour for more.
5. Carcass- Torn Arteries
I didn't sense it at first, but it became apparent that my enthusiasm for Carcass' latest face-ripping death grind extravaganza simply wasn't shared by the bloke at the end of a recent Skype session. It happens, and as a podcast host, you get over it, but sometimes it taints the music. Jeff Walker, Carcass' bassist and frontman, will probably tell you he doesn't owe the fans, especially indie podcasters emphatically praising his latest release, a Goddamned thing; he's right, you know, but for what it's worth, I think he should be more receptive to praise than he is to finishing an interview and sipping on a freshly brewed beverage.
You see, Carcass inspired entire scenes. From gore infused gut splattering grind so popular with bands from South East Asia to South America to the group's more palatable NWoBHM infused death metal, which plenty of kids in Gothenburg appreciated. Torn Arteries, the new collection of tunes from Walker and the Yang to Walker's Yin, guitarist Bill Steer, mines the same fertile musical tillage the group has sporadically released since the 1993 monolith, Heartwork.
Steer has long been the group's not so secret weapon. For such a chilled and relaxed fella, he's an expert at writing riffs that incorporate blindingly fast, alternately picked passages with crushing sections of groove. There is plenty to be heard across Torn Arteries, which is why I found Walker's reluctance to embrace positive comments on the impressive form of the group a little odd. I suppose I'm somewhat spoiled, as I have spoken to hundreds of musicians from band's that were profound influences early in their careers and continue to inspire. Almost all genuinely appreciate positive feedback. Although there's always an exception to the rule, that's Walker in this case.
Either way, I'll print what I said to Walker here: "You must be thrilled with the quality of Torn Arteries?" Walker said no, he wasn't thrilled and added words to the effect that the question implied I was somewhat overstating the significance of the album. At this stage in the group's career, Carcass deserves every accolade sent their way based on the merit of Torn Arteries, even if Walker would prefer a cup of tea.
German heavy metal ensemble Helloween have never honestly had a low ebb across their vaunted career, so why does this self-titled release feel like a comeback? The answer is found in the return of long-departed vocalist and guitarist Kai Hansen and his vocal replacement Michael Kiske, who was also long departed and has now returned. The group now has three world-class vocalists (Andi Deris is the long-tenured third); all are notable pillars of the rich tradition of German heavy metal. It's terrific that each was willing to set aside the trappings of ego to ensure the new Helloween album is far more than a blast from the past rich with cameos.
Helloween is an album that manages to draw on the core strengths of each member, yet at no point does it sound overdone or as though a member overplays their hand and overshadows a bandmate's contribution. The songwriting, musicianship, guitar solos, the cadence of Dani Löble's considerable driving beat from behind the kit, even the length of each tune define a band at the peak of their significant powers.
As an album, Helloween is a vital album that could set the scene for decades more albums of similar quality from the group. At this stage, courtesy of the quality of Helloween, and almost every album from the group before it, it's only a matter of time the group becomes a colossus mentioned in the same breath as Judas Priest and Iron Maiden.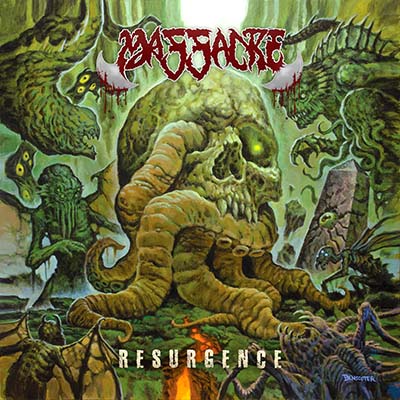 Death metal can resemble a loose coalition of underground musicians who often fall out, occasionally regroup, all the while offering fans of the dissonant arts new and exciting sounds in which to wrap their ears around. Kam Lee covers all of those bases, and on Resurgence, he's not so much regrouped Massacre as reforged the band in his image with his vision intact, one that started almost 40 years ago.
Lee deserves to be considered a founding father of death metal. Fans will likely never agree on just who it was that brought the death metal vocal style to a broader audience; however, Lee must be credited for inspiring Chuck Schuldiner, long the genre's patron saint, on those Death and Mantas rehearsal tapes in the early 80s. It was Lee who took what Possessed, and other budding extreme metal acts were doing over the line to a place where death grunts, growls and roars were the absolute norm, not just added for effect. Anyway, I'll spare you a history lesson, as Lee offers his perspective on his role and the early days of death metal during our chat.
Resurgence is the natural successor to 1986 written, yet 1991 released classic, From Beyond. On Resurgence, Lee has drawn a superb cast of musicians capable of realising his vision, including this epoch's hidden master of death grind, British maestro Scott Fairfax. Lee's lyrics dive into Lovecraftian territory, a worthy accompaniment to the vicious slabs of death metal throughout the album.
The album is a banger, although its best place will be seen in hindsight as the album that has helped Lee continue his mission as a death metal original, someone far more critical than an artifact or relic confined to notes in Death's entry on Wikipedia. Here's hoping Resurgence is the springboard to many more releases from Lee and whomever he decides to enlist in Massacre.
If you love death metal, you need to hear what guitarist Daniel Olaisen and the band have conjured on Imperial Congregation. There are some seriously heavy flexes across the album, and not just through the blisteringly fast picked guitar passages, superb solos (such as Olaisen's on the cut "6:7"), Freddy Bolsø's rhythmic hammer, or the titanium heavy riffs either.
Vocalist Yngve Christiansen's lyrics on "Transparent Existence" could be evidence of his thoughts on what it means to be systematically deprived of individual freedom, a death metal version of punks 'kicking against the pricks' if you follow. For many people living in the western hemisphere, 2021 has been a shit of a year. Vaccine mandates and COVID lockdowns, essentially decreed by unelected officials and enforced by bureaucrats, continue to extract a terrible bounty in the name of public health. To compound matters, the morbid curiosity of taxpayer-funded left-leaning media agencies and their obsession with COVID body counts spam social media feeds. It all adds up and weighs heavily on a population weary of fear-mongering and the constant hype of new and even more deadly COVID variants.
In these times, death metal is an elixir. Listening to Imperial Congregation with a set of headphones won't solve your problems, but it sure helps.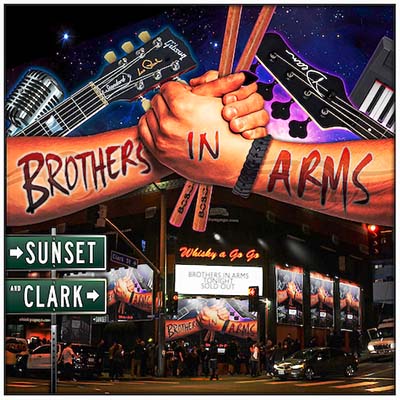 Jack Frost is a guitarist who has been developing his brand of hard rock across too many groups to mention, and on Brothers In Arms, he has reached out to an impressive list of musicians to help him put together a rock album for the ages.
Featured across Sunset and Clark's tunes are members of Last In Line, Lynch Mob, Diamond Head, Angel, Montrose, Rough Cutt, Quiet Riot, REO Speedwagon and Pat Benatar; which lends itself to the fact that Frost is capable of drawing the best in the biz to his projects. That Frost can pick and choose musicians from amongst some of rock's most vaunted outfits is all well and good, but it's what Frost can do with his own hands that is the absolute marvel on Sunset and Clark.
Frost's guitar performance has never relied on tried and tested tropes such as finger tapping and warp speed playing; instead, he shares Jake E Lee's philosophy that less is more when it comes to blending techniques. In this way, Frosts' compositions never suffer due to an insistence on demonstrating technicality to satisfy the Guitar World brigade.
Album opener "Bitch is Crazy" sets the scene for a raucous affair that only gradually eases up at the fifth cut, "To Make You Mine". Like Shotgun Mistress, Sunset and Clark aren't defined by the album's abundance of supreme guitar playing. However, Frost's performance identifies it as a killer album for all fans of guitar dominant rockin' metal music.
10. Karoshi– Addition EP and "Become" (single)
Karoshi is a duo that gets by with some help from their friends, including a simply captivating cameo from Insurge frontman Chris Dubrow. The Addition EP caps off a riotous foray into crafting new and original music from David Gale, the guitarist in Aussie ska-rock outfit The Porkers.
Karoshi serves a buffet of similar uptempo dance metal to The Prodigy and Mikey Sciacca era Ministry that'll have you headbanging as well as shaking your booty. And Gale's guitar performance offers a heap of dense thrash inspired riffage overlaid a bed of trip hop-inspired beats that would make Fear Factory's Dino Cazares take notice.
"Become" features Dubrow, whose unmistakable voice has been absent from the public domain for far too long. Elsewhere Gale handles the vocal duties, and he had me thinking about dealing with dickheads late at night in my youth through the prime cut "Get out of My House", in which his lyrics rail against obstinate party guests.
I've played in a band with Gale for full disclosure, and I can offer this sentiment without hesitation that he is the most gifted and capable guitarist I have shared a stage. It's great to see him find willing collaborators and mine his immense talent as a songwriter.
(equal 10) NorthTale– Eternal Flame
Brazilian/American guitarist Bill Hudson would surely be rewarded with global acclaim in an alternate universe that recognises talent and perseverance over social media likability and edgy hot takes in 280 characters or less. Not that he doesn't receive his fair share of plaudits here and now, but the strength of Eternal Flame is such that if it were granted the type of marketing budget and media coverage of (say) the new Iron Maiden album, he'd have a smash hit on his hands.
I can almost hear the naysayers now. Heavy metal isn't a popularity contest, or who cares if the mainstream continues to ignore quality metal releases? What must be said is that Hudson has crafted a metal album with a stunning soundtrack quality that could appeal to a vast audience. The best way to describe the album is that it's a visceral experience, a panorama of compositions that feels like an accompaniment to a big-budget Steve Spielberg produced Hollywood blockbuster.
Overall, Eternal Flame contains far too many highlights to pick out over others. However, it's not unreasonable to recommend "Future Call", which features Kai Hansen and Hansen's son, Tim, and also "The Land of Mystic Rites", which pays homage to vocalist Guilherme Hirose's religious philosophy.
That's it! All the best throughout 2022!
---
Recently added ...